Early on in my game creator career, I decided not to reveal much of my private life.
But because of the long silence in the development of Seashine's big update I have to explain a little bit who I am and what happened / what is still happening to me.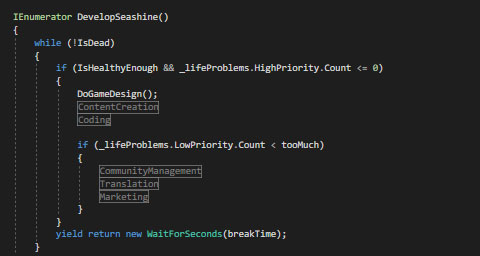 2020 has been a very bad year for so many of us.
COVID-19 wasn't the main cause of all the mental and physical suffering I struggled with this year, it was a secondary issue.
My year started with a coronavirus unrelated tragedy which, a few weeks later, was followed with me, pale and trembling, in the emergency services of my local hospital, hoping someone would come to tell me that my wife, despite her severe blood loss, was not going to die.
Things ended well but let's say that the start of the year was quite traumatizing.
Then came the lockdown and other personal issues, ranging from home fixing issues to death threats from a wrongdoer (or should I say drug dealer) causing big trouble in our neighbourhood, forcing us to find a new home soon, far. But that's just turbulence.
What's important for the future of Seashine is what's in my DNA.
It is time for me to talk about something I've been hiding, something that has a deep impact on my everyday life and on my work.
Since my birth, I've been living with a muscular distrophy (MD). Because a specific region of my DNA is readable (when it shouldn't), my muscles progressively stop working, slowly paralyzing me.
Until last year, it was still doable for me to work on a computer without too much difficulty. About half the muscles of my hands stopped working years ago but I could still manage to work by adapting my workspace to my disabilities.
Since my childhood, I've been used to seeing my muscles die one after the other. I got used to it and losing muscles became a routine that didn't affect me much as long as I could still do things I like (mostly on paper, on computer, or on a musical instrument).
On this subject, 2020 was hard. The MD took a big step forward this year, eating more of the muscles in my arms, hands, and legs. It is now really difficult for me to even use a computer.
Like always, I'm finding ways to counter the progression of the distrophy, like splints that were built for me and that I put on my forearms to help me open my fingers. It's quite discomfortable but it helps.
So what's next for me, for Seashine, and for my future game?
Well, since there is no cure yet, the MD will progress. I can only make sure to not do too much so I don't accelerate the process.
That's also why I'm telling everyone that I want to take my time for Seashine's big update. Pressure will litteraly kill me.
I so much want to finish this big update for Seashine, not only because I've put so much effort in it and because I know players will love it, but also because I told myself I can't resume the work on my next game until Seashine's big update is available for download.
However, at this stage, I'd like every Seashine player to know that I have almost no control over this muscular distrophy.
At some point, if things get too hard for me, I might not be able to develop games anymore.
So… fingers crossed!
Thank you to all the players who keep supporting me by sending adorable messages. Your kind words are so helpful!
Patrick